The first race for Doggett's coat & badge took place on 1st August 1715, the winner of the wager is now known, although it must be pointed out that the race did not take the name of Doggett's until 1st August 1716.
There has been numerous mistakes over the years concerning the race and its history, even the colour of the coat, it was most certainly not red as many have quoted, or indeed scarlet, crimson, claret-but orange, for two very good and important reasons.
Orange was the colour of the "Whig" party that Thomas Doggett supported (Up to his ears) as some have said. Secondly Orange was the colour of protestant Europe, George, elector of Hanover and the Duke of Brunswick, was 51st in line to the throne of Great Britain-however, he was the first Protestant in line to the throne.
Various names of past winners of the Coat and Badge wager have been not been recorded correctly, or in some cases, not recorded at all. I have endeavoured to correct many of these errors. Besides naming as many winners as possible, I have named as many competitors, including those eliminated in the rowing of heats and drawing of lots.
Not wishing to sound pretentious in any way, this work is probably the most accurate of any others you will find on the subject of Thomas Doggett, including circumstantial evidence to suggest he "died a pauper" as shown on the plaque at Eltham Church, London.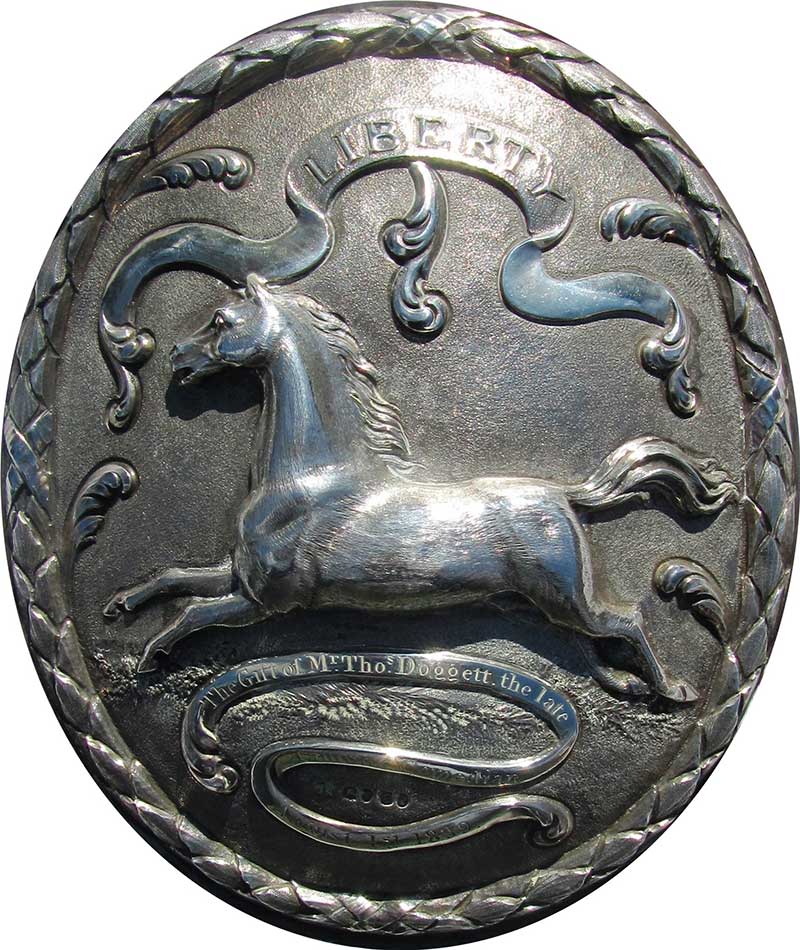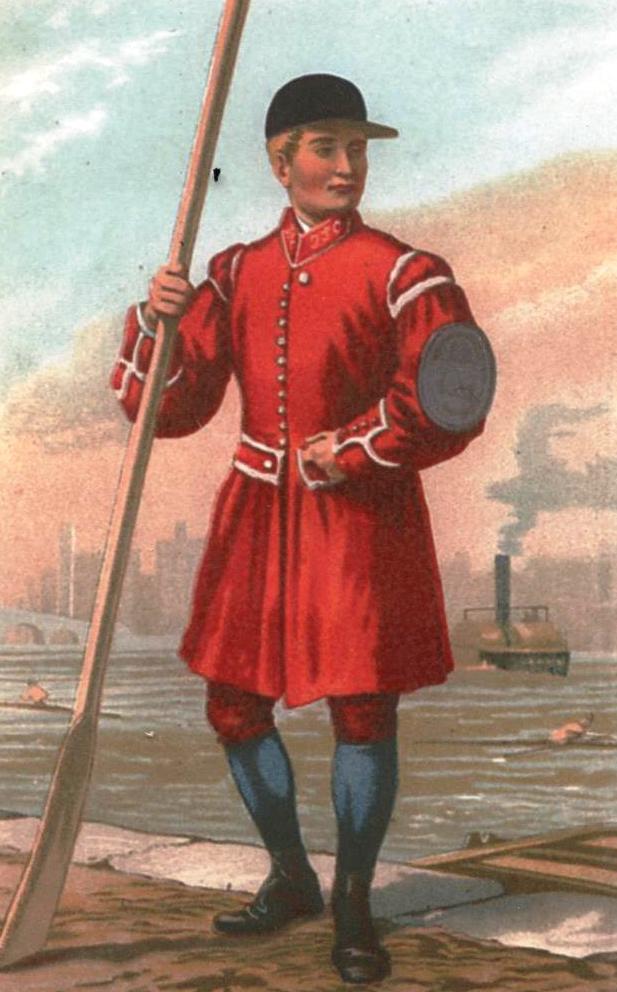 BEWARE
NOT AN IMAGE OF A DOGGETT COAT & BADGE
WINNER
EVERYTHING IS WRONG
The coat style, the badge and the cap are all wrong. Although the Victorian artist entitled the picture Doggett's Coat & Badge winner.
THE ARTIST GOT IT ALL
WRONG!
To the left you will see the regalia of a Doggett winner. The badge, worn on the top of the left arm depicts LIBERTY in the form of the White Horse of Hanover, not a "wild horse" as some have called it.
To learn more about the oldest annually held race on the British sporting calendar, and other publications from Trueflare Ltd.
PRESS HERE